Administrator
Staff member
Gartner named Google, Microsoft, Amazon and IBM has leaders for the Cloud AI Developer Services.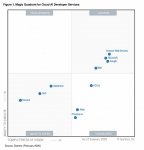 By 2023, 40% of development teams will be using automated machine learning services to build models that add AI capabilities to their applications, up from less than 2% in 2019.
By 2025, 50% of data scientist activities will be automated by AI, easing the acute talent shortage.
Read More and download the report: